Visit Information
Prepare for your next office visit
Please try to arrive 15 minutes before your appointment, so that we can be sure to update any paperwork and patient data as needed. If you have to cancel, we can always reschedule you for another time - but we do ask for at least 24 hours of notice before cancellation.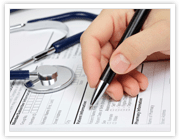 What to Bring to Your Appointment
A current Photo ID
Any insurance information and cards
Your Co-payment
Any requested test results or films
Relevant medical records
A list of current medications
Prescription Refill Policy
If you need your prescription refilled, we are happy to call your pharmacy and take care of it. Just be sure to provide us with the phone number to your pharmacy, and we'll either call in a refill or schedule an appointment to see you first.